Client: Private Client
Location: Nottinghamshire
Situated on the outskirts of a small Nottinghamshire village, isolated in the open countryside lay 'Stonecroft', a small former agricultural workers bungalow. Clad with reconstituted stone, concrete roof tiles and plastic windows, the building certainly detracted from the beautiful natural backdrop of pastural fields and paddocks.
Sited somewhat centrally on a square parcel of land measuring almost an acre, Stonecroft looks to the south over a private paddock with gentle falls towards a bridleway popular with walkers. Boundaries with the country roads are shielded by mature trees and hedgerows contributing to its privacy and amenity.
Following multiple failed planning applications to redevelop the land, our client approached JSA to create design proposals that fell within their Permitted Development (PD) rights, thus avoiding further conflict with the local planning department and neighbors in the village.
In addition to improvements to its poor construction and performance, the building was also required to be attractive – worthy of its setting, more eco-friendly and of a size and layout that accommodates a large family. It was the clients intent to sell the site following completion of the building works and so value was also a key consideration.
Having prepared a massing model of the existing building, we explored the options available to us under new Permitted Development rules which were introduced in September 2020, allowing large vertical extension of buildings. This exercise allowed us to consider what elements of development would be appropriate without planning permission, but that also satisfied the clients brief.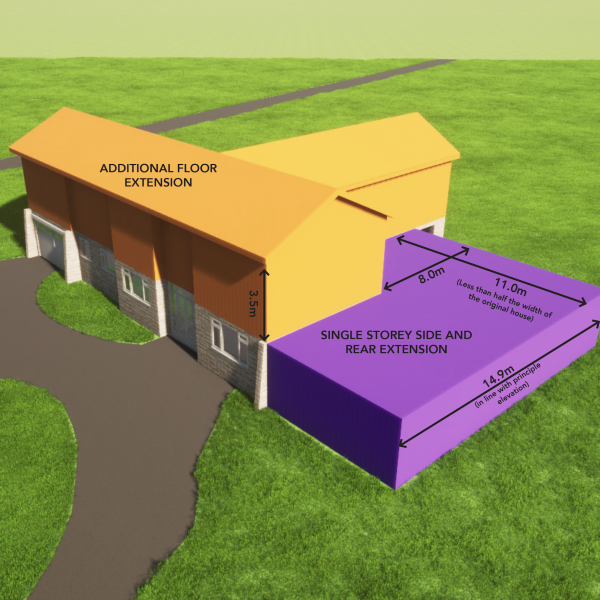 Restrictions placed on PD included the use of facing materials, which were required to match the existing building. The use of poor-quality finishes was identified as a main contributor to the unattractive appearance of the existing bungalow. The permissible shape and scale of the development was also deemed undesirable for this rural plot and was quickly dismissed.
Alternative concept options were drawn up demonstrating that a better, more attractive design could be achieved that was better suited to the site, if planning permission were forthcoming. Early proposals explored the use of agricultural building forms of different configurations, but each fully utilizing the existing footprint to achieve the highest value development. In order to avoid costly underpinning of the existing bungalow, we avoided two-storey construction above the existing walls and created stepped facades; this further enhanced the agricultural vernacular by separating the 'existing' from the 'new'.
So as to fully utilize the space available on the site, we also proposed an outdoor swimming pool, generous patio space and detached garage; the siting of which allowed occupiers to benefit from the stunning views and sun throughout the day, as well as privacy.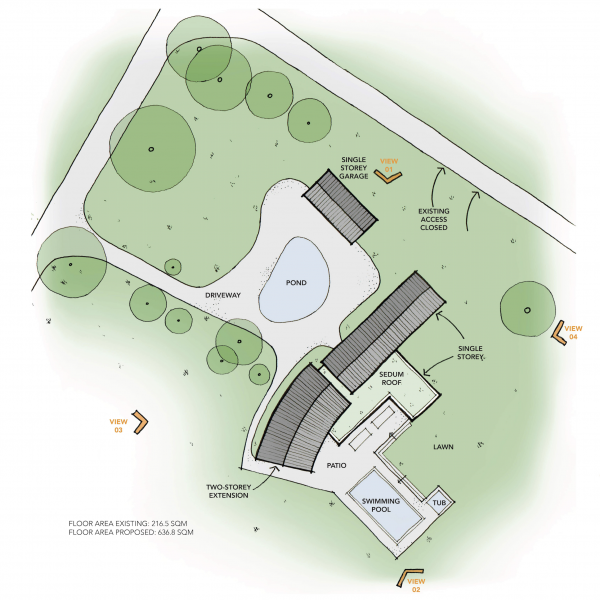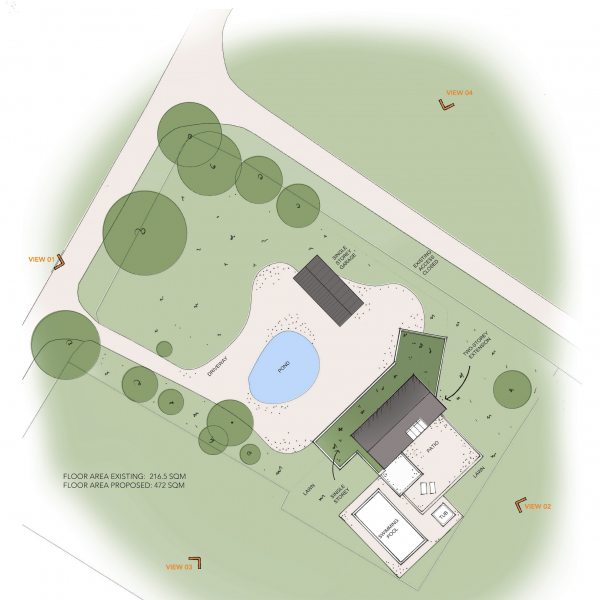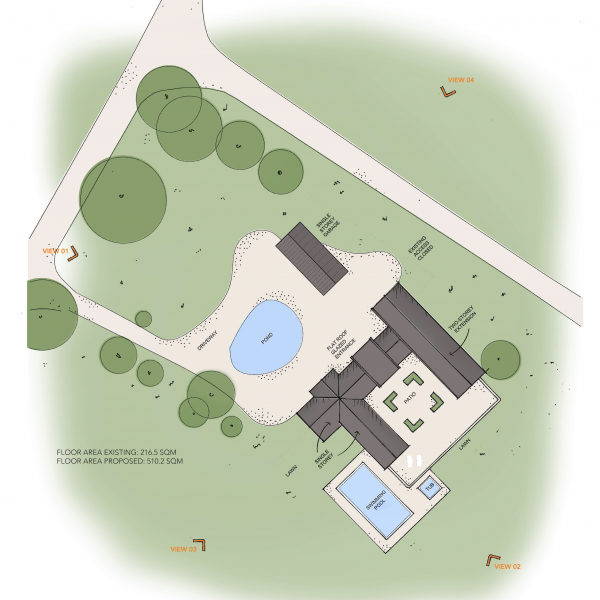 Further development of the preferred concept included detailed layouts, which boasted generous accommodation fit for a prime dwelling of this scale. Making the most of the elevated vistas across the rolling hills, a semi-open plan kitchen, living and dining area was located to the south elevation behind strategically positioned windows and sliding doors. Spaces are separated by large moveable walls and a 'through' fireplace, adding to a sense of openness without the loss of separation and privacy.
The entrance hall provides access to a well-considered layout and full height space with vaulted ceilings. Occupiers and visitors are immediately presented with a bespoke cantilever staircase leading to a galleried landing that maintains a connection with the ground floor.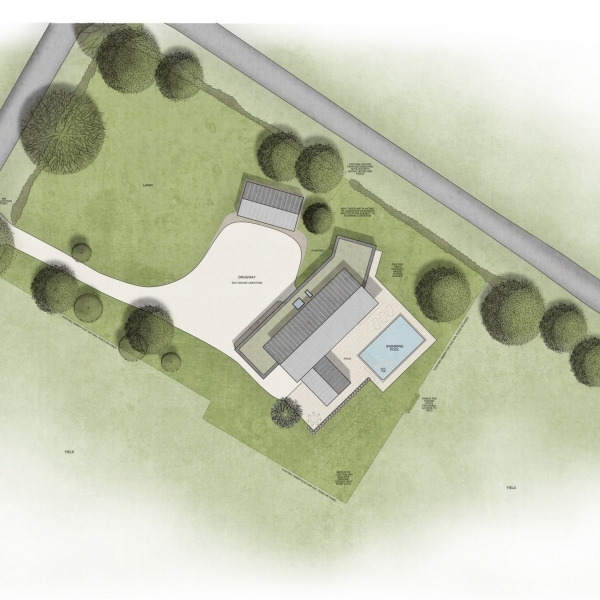 In-keeping with the visual connectivity concept, the space is also overlooked by the first-floor home office via a full height glass partition, and includes a double-sided glass wine store beneath the staircase with views into the kitchen.
A short corridor leads to a generous media room with space for family cinema-style seating and a full size games or craft room for evening entertainment are strategically located in areas with the least benefit from natural lighting.
A sizeable single storey extension which houses a fitness suite is located at the edge of the principal elevation, with a jilted angle towards the detached garage to enhance the courtyard feel as visitors approach the house.
The upper floor accommodates a home office, family bathroom and five large double bedrooms, each with fitted wardrobes or separate dressing rooms and en-suites.
Windows are positioned to frame key views for maximum impact, rather than large expanses of glass that often fail to draw attention to important aspects of its outlook.
Identifying appropriate exterior finishing materials and details was fundamental to achieving the desired agricultural style. A pallette of timber and metal is commonly observed on farmstead buildings and where we drew inspiration from. The roof of the large 'barn' shaped addition is clad with zinc in a dulled finish, with standing seams at regular spacing. The single-storey aspects will comprise flat roofs and feature a living medium of grass and sedum which will be visible above tall parapets.
As a contemporary interpretation of a traditional cladding material, walls are finished with dressed Siberian Larch, in a vertical arrangement with open joints and hidden fixings. This rainscreen system will include an external insulation material to the existing walls that will improve the performance of the building, whilst removing any trace of the undesirable façade beneath.
A selection of windows will be over-clad with hit-and-miss timber as a feature detail that creates intrigue from both inside and outside of the building. This maintains a near blank elevation and avoids an over-domesticated persona that would detract from the authentic agricultural style.
Rushcliffe Borough Council have adopted stringent planning policies that protect development in the countryside; these include placing protection on rural views and the natural landscape, restrictions on new development outside of defined settlement boundaries and limits on extensions to existing dwellings. In addition, Stonecroft is located on the edge of a conservation area with a strong vernacular of traditional brick-built countryside homes of small, compact forms.
In order to demonstrate that our design proposals would have a positive impact on the landscape and the nearby village, we presented the application drawings with additional context and detail by way of rendered elevations, a comprehensive Design and Access Statement and history of the design development that lead to the submitted proposals.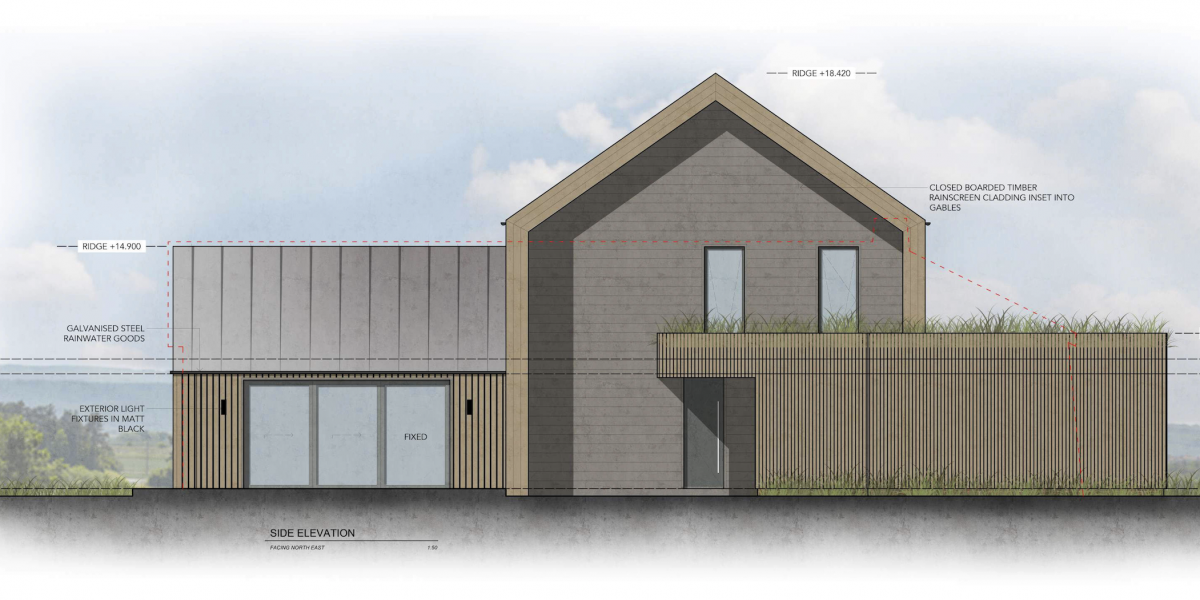 Planning permission was granted by delegated decision in November 2021 following unanimous support from the case officer, councilors, neighbors, consultees and the local parish, despite strong objections on the previous refused applications.
It is common during the course of a planning application that alterations to the submitted plans are requested by the case officer following feedback from consultees, however, all drawings were approved as submitted; a testament to a comprehensive planning submission.