JSA Architects have been awarded 'Best Creative Architectural Design Studio' by BUILD, and 'Residential Architecture Award of Excellence' by E2 Media. These are on the back of a long string of successful projects that include the completion of Woodsend, a new-build Scandinavian inspired eco-home, and planning approval for the Great Northern Classics Heritage Motor Centre in Derby.
Director Chris Wood commented:
"Our team are thrilled to be winners once again for these highly regarded awards. It's been a tricky few years but it's wonderful to know that our efforts are still been recognised in such a highly competitive industry, especially so for those projects that demonstrate our commitment to sustainability and use of innovative new technologies".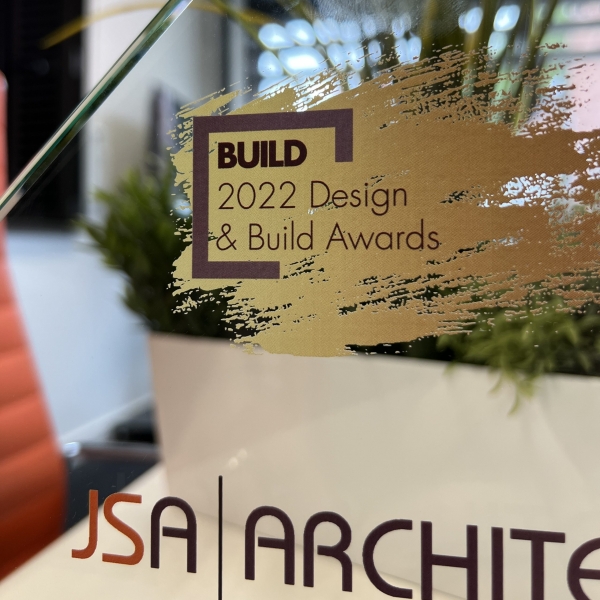 Official Editorial - BUILD
JSA Architects is an interdisciplinary architectural practice with a design-first approach to everything it undertakes. The firm's varied workforce is made up of architects, technologists, interior designers, visualisers, and project managers, so it is able to execute its projects with a holistic approach – ensuring everything from design to planning, and cost to construction matters are considered.
"We've always valued collaboration, not just amongst our studio, but also with our clients and external partners too," explains Chris Wood, the firm's Co-Owner and Director. "This is something that we consider to be fundamental to the success of any project and what has made us the first choice for anybody who wants to enjoy the design and construction process."
Headquartered in Derby, and with regional studios in Nottingham and Solihull, JSA has established a name for itself not only in the Midlands, but nationwide, specialising in the residential sectors, designing multi-million pound super homes, eco-homes, Passivhaus', and residential developments. In recent years though, they've been taking on more and more commercial schemes, ensuring they are guided by the same principles that made them so successful in housing.
The firm has a very progressive vision, one that challenges the status quo and takes full advantage of new technologies.
"We're well-versed in construction matters and modern methods of construction (MMC), such as ICF, SIPS, and prefabricated timber frame. However, we also remain respectful of traditional methods too as we still do a lot of conservation and restoration work," Chris elaborates. "We recognise the value of administrative technologies and take full advantage wherever we can. Our studios are all operated using cloud systems and our hardware is state of the art."